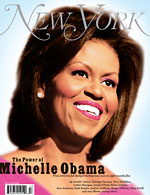 För bara en månad sedan
prydde Michelle Obama omslaget till ett av de stora amerikanska modemagasinen,
Vogue
. Och hypen runt Mrs Obama tycks onekligen hålla i sig.
New York magazine
kör till exempel en
16-sidig (!) Michelle-special
i senaste numret.
Första damen blir i april även superhjälte i en
biografisk seriebok
: "Michelle Obama comic book". För alla som är intresserade av Michelles klädval är
Mrs-O.org
givetvis ett måste ("Follow the fashion and style of Mrs O: What and who she's wearing.").
Som om allt detta inte vore nog verkar dessutom stora delar av USA:s modebransch just nu hoppas på att Mrs O, ensam, ska
lyckas vända den negativa ekonomiska trenden
.