Internetanvändning ökar, föga förvånande, markant. Hälften av den vuxna befolkningen använder internet minst 1 timme om dagen (USA).
Läs mer
hos Mindpark.
*****
...Och britterna kollar mer på TV än någonsin tidigare,
skriver
Guardian.
*****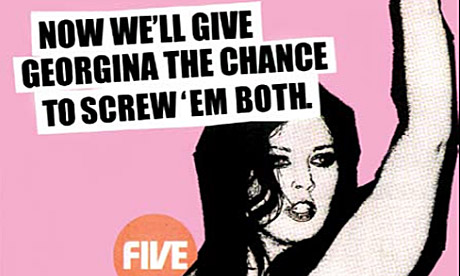 Den här annonsen prisades nyligen för bästa dagstidningsannons i Storbritannien 2008. Läs mer om bakgrunden och motiveringen
här
.
*****
Google Makes Gmail Available Offline
...
*****
Vanity Fair:
"Is Obama the Most Famous Living Person Ever?"
Who else could it be? One friend suggest Muhammad Ali, another Princess Diana, and a third said Bill Clinton. Surely all are global brands with enormous reach and broad appeal. But all fall short of the man-meets-the-moment frenzy unleashed by Obama. To be sure, the digital revolution has made this feat of fame possible.
*****
The Onion
: Joe Biden gör en Anders Borg.
*****
SVT:s "Debatt" gjorde verkligen parodi på sig själv
igår
. Alla var där: mediehoran, de förskräckta tanterna, den äldre intellektuella författaren, den unga rebellen, den malplacerade, lite förvirrade - "vad gör jag här?" - artisten och så förstås den till synes drogade programledaren: uppspärrade ögon, nervösa ryckningar och med ett knippe frågeställningar som tycktes formulerade enbart utefter hur mycket polemik de kunde tänkas skapa.
"Det kanske allra konstigaste teveprogrammet", som Isobel H.K
uttryckte det.